Partywear for BoomerBabes
Party, party, party!
So what do we BoomerBabes wear?
Maybe you have the same pet peeves that I do with designers and manufacturers regarding their almost total lack of consideration for baby boomer women. If you shop the non-specialty stores looking for flattering cocktail or evening wear that is good for the female body over 40, 50, 60+ years old, and what do you typically find? Either pastel, boxy Mother-of-the-Bride type dresses being passed off as evening wear, or sleeveless, slinky, show-every-bump-and-lump-for-each-year-of-your-life-bare-down-to-there dresses, or nothing but black, black, black.
So you go to the "specialty" stores that supposedly cater to BoomerBabes and you'll find very little that is "Babe" about them. They seem to think we all want to wear boxy, brocade jackets to the thighs and baggy black slacks of some mysterious fabric with comfort waistbands.
How short-sighted of both of these categories of merchants. We typically have more buying power than the average 25 year old, for whom the designers actually design. And we don't want to look like grandmas, even though we may be grandmas! It is foolish to ignore such a huge demographic as ours. But, until they wake up and design for us, what do we wear that is sexy, contemporary and appropriate for our bodies at this time of life?
How do we take what's available in the stores right now and make it work for us?
Well, the first thing you need to know is:
What you want to reveal…and what you want to conceal.
If you haven't identified recently what you want to reveal…and what you want to conceal… of your own body, take a fresh look:
Experiment: Make some time just for you, when no one else is around. Put on your best uplift bra, your favorite shapewear and then try on all your existing dressy wear in your full-length mirror. ( Tip: Don't watch yourself in the mirror while changing, turn away from the mirror until you're fully dressed, and then turn back when you're finished, don't peek, and with eyes closed, stand up straight, put on a big smile and when you open your eyes, you will see yourself as others see you.) Try it all on. Make sure you can see yourself from all angles, front, sides, back. It's just you, your full-length mirror and your shapewear, and two out of the three aren't talking! After a few wardrobe changes, you will start to define what you currently like best about your body, and those areas are the ones that you will focus on when you dress and shop. Reveal the positive, conceal the not-so-positive. Simple.
Perhaps as a result of this little experiment, you discover that you're not comfortable with your arms any more, but you love your legs. Or maybe your waist is not as tiny as it was, but your cleavage is holding up just fine, thank you. Perhaps you're not crazy about your neck, but your bottom line is remaining perky.
Please don't compare yourself to a 19 year old runway model or your gym fanatic best friend or your full-figured co-worker. More importantly, don't let others compare you to anyone else! We all have physical attributes that we can show off and we all have areas that we just as soon not reveal.
Let's talk about some of those areas:
Arms: You don't have to give up sleeveless or strapless party fashions just because you have decided your arms are not your favorite asset.
Tip: Invest in a variety of stylish cropped jackets or cocktail sweaters that go with any type of evening wear. They should be a solid colored neutral of an elegant flat knit or any dressy fabric, can have a metallic sheen or not, and must look good with a variety of dresses or tops. If you have a selection of these cover-ups in your closet, you can wear anything, no matter how bare. Your cleavage and neck will be revealed, but your arms will be concealed.
It's best the fabric and color of the little jacket contrast a bit with your dress or top, otherwise it can veer into Mother-of-the-Bride territory.
If you don't want to reveal your hips or waist by wearing a short jacket, go for a longer, tuxedo-style jacket, with a slightly curved waist. Forget the boxy ones! If you're one of the younger BoomerBabes, you can go with the current trend of wearing a great-looking biker jacket over your evening wear.
Don't bother with wearing a wrap or a shawl instead of a jacket, it will just annoy you all evening, you won't be hands-free, and you will eventually discard it, revealing what you're trying to conceal.
If you don't want to wear a jacket, but still want to wear the sleeveless dress, then:
Trick: I learned this one from a great seamstress who caters to celebrities for awards shows. If your sleeveless dress has the right kind of armholes (standard inset ones), sexy sleeves can be made for almost any dress. Take your dress to a good seamstress or tailor, have them measure how much fabric is needed, then buy it in a sexy, stretchy, mesh, in a color that matches the bodice of the dress. Your arms will be covered, but the new sleeves will reveal just enough skin color through the mesh to be tantalizing, and will also act as shapewear for your arms!
If the sleeve trick won't work on your dress, or you don't want sleeves, try this:
Trick: Have the tailor make for you a little shrug that covers that certain part of your arms you don't want to reveal ( usually the triceps area or down to the elbow) but reveals your shoulders and cleavage (a great area for most women). The shrug should be of a tulle or net fabric, match the bodice, be permanently attached to the front sides of the dress, but have snaps somewhere so you can get into the dress.
Tip: If you're concerned about discolorations on your arms showing through the mesh sleeve or being revealed by the shrug, carefully apply a quick-drying leg makeup to your arms, and no one will know. It has to be matte, match your skin color exactly, and one that won't rub off on your clothes.
Let's talk about:
Legs: You buy or already own a great cocktail dress or skirt, but it's too short for you these days. ( Because it was designed for a 19 year old model, thank you, Mr. Designer. )
If you must wear this dress, can the hem to be let down? If so, that's your solution. If not:
Trick: Have the tailor add fabric to the bottom of the dress, sewn to the inside hem, and then peeking out to the additional length that you need. The style of the add-on must match the style of the bottom of the dress, i.e., if it's straight, the add-on is a straight tier or two, if it's ruffled, the add-on is an extra ruffle or two, etc. It will look like the dress was originally designed that way. This has to be a complimentary color, as you will never match the original, and is best in a semi-sheer dressy fabric, such as a mesh, tulle, chiffon. A stiff, opaque fabric won't work as an add-on for an evening dress or skirt. Don't make the add-on any longer than the part of the knee that is most flattering to you.
If you don't want to tailor the dress, then:
Tips: Try tall, or over the knee, evening boots with it. These are sleek, tight-fitting, made of fabric, not leather. This is a tricky look to pull off, but if you can make it work with your dress and your figure, it can be a great, fresh look.
If the too-short dress is the right cut and at least mid-thigh length, treat it as a tunic, and wear velvet leggings under it with some edgy footwear.
Other options for the too-short dress include wearing opaque tights, or sexy, semi-sheer pantyhose, to match the shoes. If your dress is black, you can wear control top, micro-net black fishnet (these have the small gauge holes in the netting) tights. ( Try Spanx Uptown Tight-End Micro Fishnet Tights). Don't wear the ones with the big gauge netting, they're not chic on BoomerBabes and you can look like a you-know-what. You can also try these same micro fishnets in the nude color, if your outfit is not black. Micro-fishnets are sexy and chic, and cover a myriad of things, including veins and discolorations.
Tip: If you still worry about supposed flaws on your legs showing through, try this: either wear leg makeup under the hose or as secret camouflage, wear opaque nude pantyhose that exactly match your leg color, under the fishnets or sheer pantyhose, and no one will be the wiser. This is a red carpet secret.
How about your :
Cleavage: With the right push-up bra, you can fake this for a long, long time, maybe forever. However, if you are starting to see creases, wrinkles and crepey skin on your beautiful cleavage, you can either moisturize it and reveal it, conceal it completely, or diffuse it with the trick below. . .
Trick: To diffuse less-than-flawless cleavage: Take your dress or top to your favorite tailor, tell him you want to have a soft gathering of netting or semi-sheer mesh sewn into the neckline to diffuse the cleavage area. You can also make this a smooth net insert, if it suits the dress better than a gathered one. Have him tell you the quantity of fabric needed and go buy it. The fabric should be of a soft net, tulle, chiffon, etc. to match the color of the bodice as close as you can, or you can get in a nude color to match your skin. It should be permanently sewn to the inside of the neckline, however high or low depends upon how much cleavage you want to diffuse. You still have to get into the dress, so make sure the tailor handles that in the right way., whether by adding snaps or a zipper or something else.
This illusion will still be sexy, as it is semi-sheer, but it will diffuse any visible crepeiness or sun damage you might have on your cleavage.
Tip: You can use the sleeve add-ons and the neckline insert together on the same dress, if the lines of the dress allow it. It's a real movie-star look.
And what about your:
Waist and stomach: If this is your area of challenge, rest assured that there is shapewear available for any figure. Anything can be tucked and smoothed-to a degree.
However, in spite of your shapewear, you still might want to dress to conceal this area even more.
But, please, don't fall into the trap of the raised waist myth. We are led to believe by designers that by raising a garment's waist to just under the bust, known as empire waistlines, that it can conceal a thicker waist and a rounded stomach. These dresses and tops have dominated the market for the last few years and many BoomerBabes have embraced this look. The downside of this is that any sexiness and any element of chic have been thrown out the window, AND lots of BoomerBabes are walking around looking impossibly pregnant. In addition, those cutesy raised waists are simply not age-appropriate with a mature face above them. There's just something wrong with that picture, similar to the wrongness of a BoomerBabe wearing cutesy, short puffed sleeves. And if you have an ample chest, it will be overly emphasized by the under-the-bust waist. These empire-waisted garments are best left to the young , the slender, and the small-busted woman.
So, as a BoomerBabe, what do you wear for party wear if you don't like your waist and stomach area?
Tip: Tunics are great. They hide everything, have beautiful lines and come in luxe, dressy fabrics for evening wear. They can have a low-cut neckline to reveal some sexy cleavage to move the eye up from the waist area. They are very versatile as the knee-length tunics can be worn as dresses with opaque tights and booties or semi-sheer panty hose and heels, or with tall evening boots. Mid-thigh tunics can be worn over velvet leggings, satin evening slacks, or a satin pencil or A-line skirt. Put on a gorgeous necklace or earrings, some hot footwear and you're done. Make sure the tunic just skims the body, not clings to it. If you feel a hip-slung belt is good for your body type, wear it in a glamorous metal, jewel-studded or not, loosely on the hips.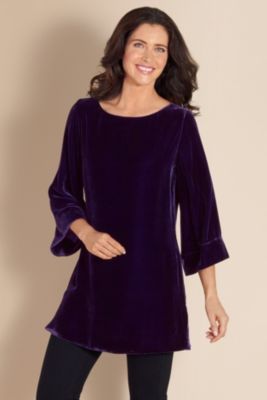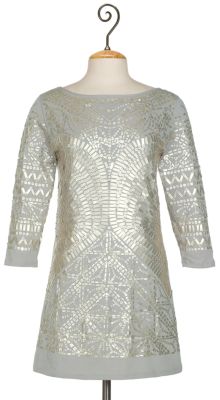 Tip: Another good option to conceal the waist and stomach area is the versatile, glamorous sheath dress. It's essential to have the dress be the type of sheath that doesn't have a waist. Again, it should just skim the body from shoulder to hem. For a bit more coverage, wear the short, bolero-style jacket if it works on your body, or the longer, tuxedo style if it's better for you. Heels, semi-sheer hose, some great jewelry, and you are one hot BoomerBabe.
The fashion world is obsessed with:
Black, black and more black: This is the sacred cow of fashion. I could write an entire blog dedicated to the pros and cons of BoomerBabes wearing black, and probably will in the future. But, just a bit on the subject now as it is the party season and BoomerBabes will be putting together dressy black outfits.
Yes, black is elegant, chic and slimming. Unfortunately, not everyone looks good in black, especially BoomerBabes.
Why? Because black is harsh on the mature face, black is aging, and black sucks the color out of your complexion. And all the blush and lipstick can't replace it, it'll only give you a hardened look. At this stage, we need colors and fabrics that light up our face, and black doesn't do that. Black casts shadows onto the face, emphasizing any wrinkles or the effects of gravity we might have.
Experiment: Put together a selection of what I call "make-up" colors for the face; peaches, pinks, corals, blue-reds, orange-reds in various fabrics and articles of clothing. Also gather up some black fabric or a black garment. Stand in front of your mirror, in natural daylight. Now, try all the "make-up" colored pieces on, one at a time, by holding them up right under your chin and having a good look. Select the one which lights up your face the most, makes you look your youngest and healthiest and put that one aside. Now, hold up the black piece under your chin. I think you'll see your face is instantly older, you look less healthy and your face is drained of color. Then, again, hold up the selected one you put aside and you'll see the difference. You may just never wear black again!
However, if you still yearn to wear black ( I understand!) as a BoomerBabe, here are some options to do that:
Tip: Add color. Remember the selected color I had you put aside in the above little experiment ? That is your best color you can wear with black. And that is what you can wear under your favorite black jacket or cardigan sweater to help lessen the aging qualities of black. Make sure the colored top is cut high enough so that its pretty color is the color closest to your face, not the black. The black will become the outline and the accent, the selected color will light up your face, in spite of the black.
(Yes, you can wear white or off-white, whichever suits you best, under black, but it's more office-like and not as pretty as your selected color.)
Tip: To wear the ever-present LBD ( Little Black Dress ) in a less aging way, enhance it with an evening jacket or a little sweater in the color you selected above. Another option is to wear a beautiful, embellished scarf in your selected color with the LBD (available at Macy's in the "makeup" colors magenta and coral).
Tip: For any black garment, your most flattering choice of jewelry can help lessen the aging aspect of black. Whatever your best metallic is, wear that with black clothing. Or wear jewelry in your selected color above. Glittery, shiny, sparkly jewelry that collects light and reflects it into your face helps counteract the effects of aging that black, unfortunately, has upon we BoomerBabes.
No matter what you wear, the most important thing this holiday season or any time of the year, is to be happy with who you are at this time of your life and to be comfortable in your own skin. Remember, your Personal Best is yours, and yours alone, and you've earned it!
Happy Holidays!
6 Responses to Partywear for BoomerBabes