Here's wishing all you fabulous BoomerBabes a very Happy, Healthy and Prosperous New Year! I look forward to hearing more from you as we continue to walk this path together, LOOKING AND FEELING GREAT!
xxoo Lee Purcell
As promised, here are additional Tips and Tricks for BoomerBabes to wear black more successfully, day or evening, year round.
If you must wear black, do so in the most flattering way to you now, not as you wore it in the past. Wearing black with a mature complexion is a challenge, as it is aging and harsh to the BoomerBabe face.
The ideal way to wear black as a BoomerBabe is to wear something in your "selected" color (see Party Wear article) between your face and the black of your outfit. Or if you feel comfortable exposing your skin in the neck, shoulder and chest area, that is another way to put distance between your face and a black neckline.
If you yearn to keep wearing black, here are some more Tips and Tricks to help pull it off:
Trick: For day or evening, wear a black skirt or slacks, with your top being in your selected color or your best metallic. Wear some sexy black shoes and opaque, semi-sheer or patterned black hose.
Tip: A lovely evening option for BoomerBabes is for your outfit's top to be of open black lace, or an open pattern of velvety dots, stripes or plaid in black, with your skin showing through, which is very sexy. Or instead of your skin being revealed, the open black lace or pattern can be on a nude or cream colored backing, which is seen through the fabric, and is also quite sexy.
Tip: Another option is for your black top or dress to have an open neckline, whether it be a portrait neckline, a plunging V, a scoop neckline, a boat neck or an off-the-shoulder style, to expose the skin closest to your face. An off-the-shoulder style is especially flattering for BoomerBabes, as it reveals the ever-lovely shoulders and conceals most everything else. If you don't love your neck, sweep a silky scarf in your selected color around your throat and let your sexy shoulders do the talking.
Tip: For evening, a gorgeous look is to wear a dress designed with a sheer black chiffon or sheer black mesh neckline insert and sleeves and wear it dripping with diamonds (or excellent zircons!). It's very elegant, yet glamorous, as your own skin color will show through the sheer black.
Trick: As a very understanding costumer did for me in the television show mentioned below, have a tailor add a white or cream colored collar to your black top or dress, for day or evening. This can be made permanent or it can be made removable with snaps or hooks, so it's more versatile. The collar can also be made in your selected color if it's appropriate for the dress.
Tip: Wearing a top or dress with an embellished neckline, in your best metallic or your selected colors, in beading, sequins, or metallic embroidery is a great way to avoid wearing black directly next to your face, for day or evening.
Tip: If you must wear black with no added color to enhance it, then choose a black dress or top in a fabric with sheen to it, not a flat, dull, matte fabric. Choose a black satin or silk, or a black that has a metallic thread running through it. The sheen will soften the aging effects of the black.
Trick: Between your face and the black of your top, wear a bold statement necklace in your selected color or your best metallic. Even the most beautiful of pearls can make BoomerBabes look frumpy, so skip pearls unless you have an edgy, current, statement necklace made of mixed pearls, metals and stones. Save your grandmother's lovely pearls for combining with some cool thick chains and wear with jeans casually.
Trick: To wear a black winter coat more attractively, have a selection of mufflers, warm hats and gloves in your selected colors or your best metallic to soften the harsh black of the coat next to the face.
Trick: A common mistake is for BoomerBabes to wear more makeup, deeper red lipstick and more blush with black to try to counteract the aging aspect of wearing black. This heavy hand with makeup only makes us look older and harder. Instead, use a light hand with your makeup when wearing black ( and at all other times as well!). Wear a transparent red, plumping lip gloss; soft light cream blush; no metallic or glitter anything; black mascara; and as little foundation and powder as possible.
Tip: If you can, wear black only at night as the soft glow of evening light is much kinder to wearing Boomerbabes wearing black than the harsh light of day.
Trick: If you are wearing a black jacket or cardigan sweater for day or evening, wear a blouse or top under it in your selected color or your best metallic, cut high enough so that it's closer to your face and neck than the black.
Trick: To wear a black pullover sweater or a top, you can create a pretty effect with your selected color in a silky scarf. Again, just make sure the color is next to your face, instead of the black being next to your face.
Tip: A black turtleneck is a very difficult garment for a BoomerBabe to wear, as not only is there no distance between the black and your face, but it also strongly emphasizes any effects of gravity your jaw line may be showing. So, give away your black turtlenecks, or wrap a scarf in your selected color around the black turtleneck of the sweater.
Trick: Over your LBD, wear a stylish jacket or an evening sweater in your selected color or best metallic.
On the rare occasions that I wear black, I only do so by utilizing my own Tips and Tricks!
In my on-camera work, sometimes the scene calls for my character to wear black, so I wear it on-camera the same way I do off-camera…very carefully. In a recent TV show, my grief-stricken character was shopping for a dress for a funeral. There were many black dresses strewn about the "dressing room", as if I had been trying them on. The black dress I was actually wearing had a wide and open neckline, exposing an expanse of skin between my face and the black of the dress, lessening the harshness of the black.
In a different television show, I was also required to wear black as my character was attending a "funeral" in a cemetery. For that scene, I wore a black dress with a cream-colored v-neck collar, to diffuse the black.
I often have to wear black on stage, as it is traditional for certain types of performances. I have a selection of black dresses, tops and skirts for stage work, and I employ my Tips and Tricks to wear black more attractively on stage.
So, if you have to wear black, or just want to, above are the ways to do it more successfully.
If you're having your walls painted, you prep and prime first, right?
Prepping and priming the skin before you apply your makeup is a similar process; it fills in everything, creates a smooth and even surface for your makeup and will also keep your makeup looking better longer.
The skin changes as we do and we have to adapt our makeup to those changes. No longer should we BoomerBabes slap our makeup over bare skin or a little moisturizer. In order to have your makeup look smooth, gently exfoliate (unless you have a skin condition which doesn't advise exfoliation), then use the Trick below:
Trick: As we are still in the thick of the party season, with New Year's Eve, the Mother of all party evenings looming, I'm sharing a red carpet and on-camera secret here with all my fellow BoomerBabes: the fabulous, magnificent, PRIMER, the ultimate skin illusionist.
What is primer? It's the best invention for BoomerBabessince shapewear. It's your spackle, your filler, for all those annoying changes like enlarged pores, wrinkles, lines, concave scars, ice-pick acne scars, that can make your makeup difficult to apply and maintain. Primer diffuses the appearance of changes in our skin and acts like a soft-focus filter for your complexion.
Primers come in many different formulations: slick, silicone-based types; thick, paste-like ones; clear, watery products; silky lotions; and on and on. It's one of the fastest-growing products in the beauty business, and almost every product line has at least one primer.
These are a few I recommend:
The type you choose depends upon your skin type and what you want to fill in. You will have to experiment until you find the right one for you.
Apply your primer to clean skin, or after sunblock during the day, before your makeup. The application technique is not the same as applying creams, moisturizers or foundation. You can't just swipe it on and be done, as you won't get the desired effect.
Whatever formulation you choose has to be carefully dabbed on with your fingers and then you pat, pat, pat and pat some more to gently push it into the enlarged pores and wrinkles, like pushing spackle into cracks and holes in your walls. (As this can be a little tricky, you'll want to practice a few times before your big event or that important meeting.) When you've finished, let it set and dry a few minutes while you do something else. When it's dry, you may just be so happy with the results, that you will skip the foundation! Or you may just want to apply a little concealer only where needed for discoloration. If you still desire to wear foundation, it will go on very smoothly.
Enjoy!
Party, party, party!
So what do we BoomerBabes wear?
Maybe you have the same pet peeves that I do with designers and manufacturers regarding their almost total lack of consideration for baby boomer women. If you shop the non-specialty stores looking for flattering cocktail or evening wear that is good for the female body over 40, 50, 60+ years old, and what do you typically find? Either pastel, boxy Mother-of-the-Bride type dresses being passed off as evening wear, or sleeveless, slinky, show-every-bump-and-lump-for-each-year-of-your-life-bare-down-to-there dresses, or nothing but black, black, black.
So you go to the "specialty" stores that supposedly cater to BoomerBabes and you'll find very little that is "Babe" about them. They seem to think we all want to wear boxy, brocade jackets to the thighs and baggy black slacks of some mysterious fabric with comfort waistbands.
How short-sighted of both of these categories of merchants. We typically have more buying power than the average 25 year old, for whom the designers actually design. And we don't want to look like grandmas, even though we may be grandmas! It is foolish to ignore such a huge demographic as ours. But, until they wake up and design for us, what do we wear that is sexy, contemporary and appropriate for our bodies at this time of life?
How do we take what's available in the stores right now and make it work for us?
Well, the first thing you need to know is:
What you want to reveal…and what you want to conceal.
If you haven't identified recently what you want to reveal…and what you want to conceal… of your own body, take a fresh look:
Experiment: Make some time just for you, when no one else is around. Put on your best uplift bra, your favorite shapewear and then try on all your existing dressy wear in your full-length mirror. ( Tip: Don't watch yourself in the mirror while changing, turn away from the mirror until you're fully dressed, and then turn back when you're finished, don't peek, and with eyes closed, stand up straight, put on a big smile and when you open your eyes, you will see yourself as others see you.) Try it all on. Make sure you can see yourself from all angles, front, sides, back. It's just you, your full-length mirror and your shapewear, and two out of the three aren't talking! After a few wardrobe changes, you will start to define what you currently like best about your body, and those areas are the ones that you will focus on when you dress and shop. Reveal the positive, conceal the not-so-positive. Simple.
Perhaps as a result of this little experiment, you discover that you're not comfortable with your arms any more, but you love your legs. Or maybe your waist is not as tiny as it was, but your cleavage is holding up just fine, thank you. Perhaps you're not crazy about your neck, but your bottom line is remaining perky.
Please don't compare yourself to a 19 year old runway model or your gym fanatic best friend or your full-figured co-worker. More importantly, don't let others compare you to anyone else! We all have physical attributes that we can show off and we all have areas that we just as soon not reveal.
Let's talk about some of those areas:
Arms: You don't have to give up sleeveless or strapless party fashions just because you have decided your arms are not your favorite asset.
Tip: Invest in a variety of stylish cropped jackets or cocktail sweaters that go with any type of evening wear. They should be a solid colored neutral of an elegant flat knit or any dressy fabric, can have a metallic sheen or not, and must look good with a variety of dresses or tops. If you have a selection of these cover-ups in your closet, you can wear anything, no matter how bare. Your cleavage and neck will be revealed, but your arms will be concealed.
It's best the fabric and color of the little jacket contrast a bit with your dress or top, otherwise it can veer into Mother-of-the-Bride territory.
If you don't want to reveal your hips or waist by wearing a short jacket, go for a longer, tuxedo-style jacket, with a slightly curved waist. Forget the boxy ones! If you're one of the younger BoomerBabes, you can go with the current trend of wearing a great-looking biker jacket over your evening wear.
Don't bother with wearing a wrap or a shawl instead of a jacket, it will just annoy you all evening, you won't be hands-free, and you will eventually discard it, revealing what you're trying to conceal.
If you don't want to wear a jacket, but still want to wear the sleeveless dress, then:
Trick: I learned this one from a great seamstress who caters to celebrities for awards shows. If your sleeveless dress has the right kind of armholes (standard inset ones), sexy sleeves can be made for almost any dress. Take your dress to a good seamstress or tailor, have them measure how much fabric is needed, then buy it in a sexy, stretchy, mesh, in a color that matches the bodice of the dress. Your arms will be covered, but the new sleeves will reveal just enough skin color through the mesh to be tantalizing, and will also act as shapewear for your arms!
If the sleeve trick won't work on your dress, or you don't want sleeves, try this:
Trick: Have the tailor make for you a little shrug that covers that certain part of your arms you don't want to reveal ( usually the triceps area or down to the elbow) but reveals your shoulders and cleavage (a great area for most women). The shrug should be of a tulle or net fabric, match the bodice, be permanently attached to the front sides of the dress, but have snaps somewhere so you can get into the dress.
Tip: If you're concerned about discolorations on your arms showing through the mesh sleeve or being revealed by the shrug, carefully apply a quick-drying leg makeup to your arms, and no one will know. It has to be matte, match your skin color exactly, and one that won't rub off on your clothes.
Let's talk about:
Legs: You buy or already own a great cocktail dress or skirt, but it's too short for you these days. ( Because it was designed for a 19 year old model, thank you, Mr. Designer. )
If you must wear this dress, can the hem to be let down? If so, that's your solution. If not:
Trick: Have the tailor add fabric to the bottom of the dress, sewn to the inside hem, and then peeking out to the additional length that you need. The style of the add-on must match the style of the bottom of the dress, i.e., if it's straight, the add-on is a straight tier or two, if it's ruffled, the add-on is an extra ruffle or two, etc. It will look like the dress was originally designed that way. This has to be a complimentary color, as you will never match the original, and is best in a semi-sheer dressy fabric, such as a mesh, tulle, chiffon. A stiff, opaque fabric won't work as an add-on for an evening dress or skirt. Don't make the add-on any longer than the part of the knee that is most flattering to you.
If you don't want to tailor the dress, then:
Tips: Try tall, or over the knee, evening boots with it. These are sleek, tight-fitting, made of fabric, not leather. This is a tricky look to pull off, but if you can make it work with your dress and your figure, it can be a great, fresh look.
If the too-short dress is the right cut and at least mid-thigh length, treat it as a tunic, and wear velvet leggings under it with some edgy footwear.
Other options for the too-short dress include wearing opaque tights, or sexy, semi-sheer pantyhose, to match the shoes. If your dress is black, you can wear control top, micro-net black fishnet (these have the small gauge holes in the netting) tights. ( Try Spanx Uptown Tight-End Micro Fishnet Tights). Don't wear the ones with the big gauge netting, they're not chic on BoomerBabes and you can look like a you-know-what. You can also try these same micro fishnets in the nude color, if your outfit is not black. Micro-fishnets are sexy and chic, and cover a myriad of things, including veins and discolorations.
Tip: If you still worry about supposed flaws on your legs showing through, try this: either wear leg makeup under the hose or as secret camouflage, wear opaque nude pantyhose that exactly match your leg color, under the fishnets or sheer pantyhose, and no one will be the wiser. This is a red carpet secret.
How about your :
Cleavage: With the right push-up bra, you can fake this for a long, long time, maybe forever. However, if you are starting to see creases, wrinkles and crepey skin on your beautiful cleavage, you can either moisturize it and reveal it, conceal it completely, or diffuse it with the trick below. . .
Trick: To diffuse less-than-flawless cleavage: Take your dress or top to your favorite tailor, tell him you want to have a soft gathering of netting or semi-sheer mesh sewn into the neckline to diffuse the cleavage area. You can also make this a smooth net insert, if it suits the dress better than a gathered one. Have him tell you the quantity of fabric needed and go buy it. The fabric should be of a soft net, tulle, chiffon, etc. to match the color of the bodice as close as you can, or you can get in a nude color to match your skin. It should be permanently sewn to the inside of the neckline, however high or low depends upon how much cleavage you want to diffuse. You still have to get into the dress, so make sure the tailor handles that in the right way., whether by adding snaps or a zipper or something else.
This illusion will still be sexy, as it is semi-sheer, but it will diffuse any visible crepeiness or sun damage you might have on your cleavage.
Tip: You can use the sleeve add-ons and the neckline insert together on the same dress, if the lines of the dress allow it. It's a real movie-star look.
And what about your:
Waist and stomach: If this is your area of challenge, rest assured that there is shapewear available for any figure. Anything can be tucked and smoothed-to a degree.
However, in spite of your shapewear, you still might want to dress to conceal this area even more.
But, please, don't fall into the trap of the raised waist myth. We are led to believe by designers that by raising a garment's waist to just under the bust, known as empire waistlines, that it can conceal a thicker waist and a rounded stomach. These dresses and tops have dominated the market for the last few years and many BoomerBabes have embraced this look. The downside of this is that any sexiness and any element of chic have been thrown out the window, AND lots of BoomerBabes are walking around looking impossibly pregnant. In addition, those cutesy raised waists are simply not age-appropriate with a mature face above them. There's just something wrong with that picture, similar to the wrongness of a BoomerBabe wearing cutesy, short puffed sleeves. And if you have an ample chest, it will be overly emphasized by the under-the-bust waist. These empire-waisted garments are best left to the young , the slender, and the small-busted woman.
So, as a BoomerBabe, what do you wear for party wear if you don't like your waist and stomach area?
Tip: Tunics are great. They hide everything, have beautiful lines and come in luxe, dressy fabrics for evening wear. They can have a low-cut neckline to reveal some sexy cleavage to move the eye up from the waist area. They are very versatile as the knee-length tunics can be worn as dresses with opaque tights and booties or semi-sheer panty hose and heels, or with tall evening boots. Mid-thigh tunics can be worn over velvet leggings, satin evening slacks, or a satin pencil or A-line skirt. Put on a gorgeous necklace or earrings, some hot footwear and you're done. Make sure the tunic just skims the body, not clings to it. If you feel a hip-slung belt is good for your body type, wear it in a glamorous metal, jewel-studded or not, loosely on the hips.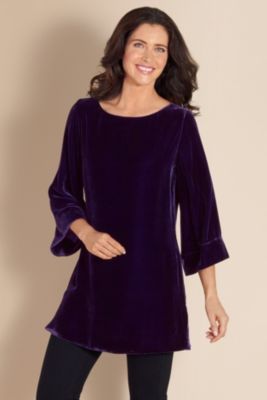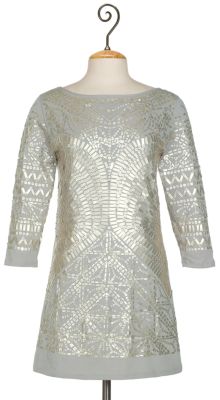 Tip: Another good option to conceal the waist and stomach area is the versatile, glamorous sheath dress. It's essential to have the dress be the type of sheath that doesn't have a waist. Again, it should just skim the body from shoulder to hem. For a bit more coverage, wear the short, bolero-style jacket if it works on your body, or the longer, tuxedo style if it's better for you. Heels, semi-sheer hose, some great jewelry, and you are one hot BoomerBabe.
The fashion world is obsessed with:
Black, black and more black: This is the sacred cow of fashion. I could write an entire blog dedicated to the pros and cons of BoomerBabes wearing black, and probably will in the future. But, just a bit on the subject now as it is the party season and BoomerBabes will be putting together dressy black outfits.
Yes, black is elegant, chic and slimming. Unfortunately, not everyone looks good in black, especially BoomerBabes.
Why? Because black is harsh on the mature face, black is aging, and black sucks the color out of your complexion. And all the blush and lipstick can't replace it, it'll only give you a hardened look. At this stage, we need colors and fabrics that light up our face, and black doesn't do that. Black casts shadows onto the face, emphasizing any wrinkles or the effects of gravity we might have.
Experiment: Put together a selection of what I call "make-up" colors for the face; peaches, pinks, corals, blue-reds, orange-reds in various fabrics and articles of clothing. Also gather up some black fabric or a black garment. Stand in front of your mirror, in natural daylight. Now, try all the "make-up" colored pieces on, one at a time, by holding them up right under your chin and having a good look. Select the one which lights up your face the most, makes you look your youngest and healthiest and put that one aside. Now, hold up the black piece under your chin. I think you'll see your face is instantly older, you look less healthy and your face is drained of color. Then, again, hold up the selected one you put aside and you'll see the difference. You may just never wear black again!
However, if you still yearn to wear black ( I understand!) as a BoomerBabe, here are some options to do that:
Tip: Add color. Remember the selected color I had you put aside in the above little experiment ? That is your best color you can wear with black. And that is what you can wear under your favorite black jacket or cardigan sweater to help lessen the aging qualities of black. Make sure the colored top is cut high enough so that its pretty color is the color closest to your face, not the black. The black will become the outline and the accent, the selected color will light up your face, in spite of the black.
(Yes, you can wear white or off-white, whichever suits you best, under black, but it's more office-like and not as pretty as your selected color.)
Tip: To wear the ever-present LBD ( Little Black Dress ) in a less aging way, enhance it with an evening jacket or a little sweater in the color you selected above. Another option is to wear a beautiful, embellished scarf in your selected color with the LBD (available at Macy's in the "makeup" colors magenta and coral).
Tip: For any black garment, your most flattering choice of jewelry can help lessen the aging aspect of black. Whatever your best metallic is, wear that with black clothing. Or wear jewelry in your selected color above. Glittery, shiny, sparkly jewelry that collects light and reflects it into your face helps counteract the effects of aging that black, unfortunately, has upon we BoomerBabes.
No matter what you wear, the most important thing this holiday season or any time of the year, is to be happy with who you are at this time of your life and to be comfortable in your own skin. Remember, your Personal Best is yours, and yours alone, and you've earned it!
Happy Holidays!
As Thanksgiving  is behind us, Hanukkah is here, Christmas is fast approaching, and my thoughts turn to… The Holiday Sweater!
To wear, or not to wear, hmmm, that is the question…
Traditionally, the Christmas Holiday Sweater is red and green with Santas, reindeer, candles and ornaments merrily prancing across your chest. And, for Hanukkah, it's usually dreidels, menorahs, the Star of David and other traditional symbols on the blue, white and gold background of the Hanukkah Holiday Sweater.
Every year, many BoomerBabes pull their Holiday Sweater from the back of the closet and wear it. But, what might have been a warm and fuzzy tradition in the past, may now be an aging and frumpy habit. Perhaps it's time for a fresh, honest appraisal of how that Holiday Sweater actually looks on you now. Should you really wear it at this stage of life? Is it okay that it makes you look 10 years older and 10 pounds heavier? Or does the sentiment overcome the vanity? Perhaps you should wear it in a fresh and new way, or perhaps, wear something else. ( gasp!)
Let's explore the pros and cons of the BoomerBabe wearing a Holiday sweater:
Pros: Your sweater will hide the effects of the holiday foods you've been eating since Halloween. ( those mini chocolate bars are my favorites…).
You show the world that you have the holiday spirit.
Your Holiday Sweater will never wear out as you only wear it during one holiday season per year. You can wash your car with it, mop the school cafeteria floor with it, and it will never wear out.
You never have to think of what to wear for the holiday celebrations and family photos-you've got the Holiday Sweater!
Cons: You will always look 10 pounds heavier and 10 years older in your Holiday Sweater. This would be good if you were a skinny 12 year old.
You are losing a grand opportunity to look chic, fresh, and fashion-current in front of your family, friends, and that special someone.
You will not look BoomerBabe-ish if you wear the traditional Holiday sweater. Possibly no one, except for your husband in his Holiday Sweater, will find you sexy in your Holiday Sweater. And I guess that's fine, unless you're single and looking!
You will always be hot in the Holiday sweater, no, not that kind of hot, but hot from hot flashes! Those sweaters don't breathe!
If your response is:
I want to wear it anyway as my (fill in the blank) gave it to me: OK, if you still love your Holiday Sweater and wouldn't dream of eating fruitcake wearing anything else, there are ways of wearing it that can make it more BoomerBabe-ish:
1) Haul it out of the back of your closet, drawer, moth balls, whatever, and clean it, de-pill it and make any necessary repairs or alterations.
2) If you're carrying a few more pounds than you'd like, put on some discreet shapewear underneath (click on photo below) and a new, uplift bra (ditto ) to get the Girls up, up, up for a more youthful silhouette in even the Holiday Sweater. Shapewear is the BoomerBabe's BFF (Best Friend Forever), unless you spend every waking moment at the gym and never eat a carb.
3) Wear something great below the sweater, such as jeans that tuck and lift everything but are still comfortable! (in the BoomerBabes Shop, click on the Shop tab above) Check out the fabulous dark-wash straight-leg jeans for boy-ish figures or, for fuller, hour-glass figures, have a look at the black boot-cut jeans.Or you can choose a fabulous pair of dark velvet slacks (below), or a dark pencil or A-line skirt . If your legs still make you smile, and your sweater is a long, mid-thigh tunic, leggings ( in the Shop ) or jeggings are another great choice. Depending upon your shape and size, and the color of the sweater, wearing winter white slacks or skirts, but not winter white leggings or tights, is a very pretty option also.
4) What you wear on your feet ( see below, I am lusting for these ) can lift the style quotient of the Holiday Sweater. Fabulous boots, whether sexy ankle booties, or knee-high leather ones, or even sleek over-the-knee boots could work, depending upon your height, figure, comfort zone with heels, proportion of the sweater, slacks or skirt. Embellished ballet flats or kitten heels (in Shop), are another very stylish selection, if you'll be on your feet for hours on end.

Nina Ravine Pump

See more shoes in the BoomerBabes Shop
If your sweater is heavily patterned, it's best not to wear patterned tights, but solid-colored, opaque ones instead. Match the tights to your footwear and to what you wear below the Sweater, it's so slimming and sexy! But if you are wearing winter white below the sweater, think twice about wearing winter white tights, they can make your legs look heavy and can also look like you're wearing a medical uniform. Try winter white in slacks, or if you wear a winter white skirt, wear it with tall boots, to avoid the white tights.
5) A stylish, thin, flexible leather or metal belt ( below ) over the sweater could work, if the sweater is thin and of a soft fabric and if you are pleased with your waist.
6) If the Holiday Sweater is a cardigan, you have even more options. You can button it part way up, to mid-chest, perhaps belt it and wear a pretty camisole ( below ) or a crisp white button-front shirt peeking out. Or you can leave the sweater completely unbuttoned, wear a tank, thin pullover or shirt underneath, belted or not, and wear the open Holiday Sweater as an accent.
7) Forget the conservative pearl studs and any sort of necklace or bracelets with the patterned, embellished Holiday Sweater, wear some big hoop earrings or sexy, dangly ones, a bold statement ring, and you're all set to impress with the Holiday Sweater!
If your response is:
I'm a BoomerBabe who would rather eat dirt than wear a Holiday Sweater!
OK! There are many other options for a festive look:
1) Wear a beautiful sweater or blouse in a luxe fabric, such as cashmere, velvet ( the purple velvet below is so yummy) or silk, in the holiday colors of your personal traditions, or just rich colors that you love. I havea vintage, red, men's cashmere v-neck pullover I like wearing this time of year, and a couple of jewel-toned silk blouses that are quite festive.
2) Metallic tops are always lovely and take on a special holiday feel this time of year; golds, pewters, coppers, bronzes, and silvers. Choose the one that flatters your hair, skin and eyes the most. This is usually silver and pewter for brunettes, copper or bronze for redheads, gold or bronze ( below ) for blondes and silver for silver hair. The darker your skin, the more dramatic you can go. Try the tops on in a good mirror with real daylight to choose what metallic is best for you. And if a top is a bit bare for your taste, try a beautiful jacket ( below) over it. The metallic fabric will look stunning peeking out of it, and so will the hint of cleavage!
3) Sequins are always a glamorous way to go for evening. An added plus is that the current trend of wearing sequins as daywear can also enhance your daytime holiday outfits and are very fashion-forward for BoomerBabes, if worn appropriately. Try a sequined jacket or a versatile sequined top (below) over your dark-wash jeans, velvet slacks, simple skirts and sheath dresses. (I have a chocolate brown sequined jacket I can wear over so many things.) Or wear a sequined tunic-length cami over a thin, long-sleeved, layering tee-shirt, or a sequined tank under a denim or leather jacket.
4) Sweaters or tunics embellished with beading, fauxattached necklaces, fabric bows, or ruffles, can be very chic and still be festive.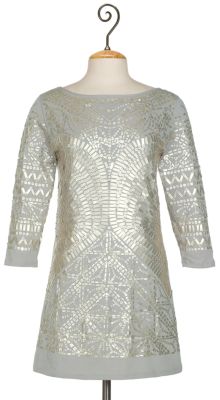 (Click above. You'll have a choice of colors.)
5) All the suggestions I mentioned earlier as to what to wear below the Holiday Sweater, and my footwear suggestions, apply here to the non-holiday sweater options too.
6) Since you are not wearing a patterned, holiday-themed sweater, you have even more options with accessories. It's fun to explore those that are holiday-themed or simply communicate "Festive". Think about a holiday-themed brooch for your winter coat, or a pair of fun holiday earrings.
I have a pair of cascading earrings made of many tiny golden bows that I wear every year. They don't scream "Christmas" but are pretty and festive. If you wear eyeglasses, you can even go with the fun, colored, sparkly ones for the holidays. Just don't wear "party" eyeglasses with big earrings or bold necklaces, as the glasses should be your main accessory from the neck up.
Without the pattern and the embellishments of the Holiday Sweater, your outfit will probably be monochromatic, neutral or of solid colors, so you can add to the Festive quotient even more with a sparkly bag, glittery or metallic footwear, patterned tights, bracelets, necklaces, scarves. Just keep the categories of accessories to three, maximum. I don't know why, but three is the magic number for BoomerBabes. You can certainly wear less than three categories, but, please, not more.
I know the trend is to pile on baubles and bangles on every available body part, but those models in the fashion mags and on the runways are under 25 and they would look good with used tires dangling from their necks. Some examples of accessorizing in the BoomerBabe Rule of Threes are: amped-up earrings, metallic bracelets and embellished bag; or a statement necklace, subtle patterned tights and a satin bag; or a festive scarf, special footwear and glittery bag. But, more, more, more just doesn't work on us.
Here's a little more homework: Pull out your most luxe holiday accessories, stand in front of your trusty full-length mirror, and then put on as much of the bling that your heart desires, or in the copious amounts that the fashion mags are promoting. Have a good look. Then take it off piece by piece, until the quantity is down to the Rule of Threes or less, and take another good look. I think you'll agree that less is more, as in more chic, more sexy, more fun and more BoomerBabe-ish. Too much stuff looks cluttered and like you're TRYING TOO HARD. Too little bling just looks naked. Spread out the bling and use it sparingly, and you'll look your personal best, not some magazine editor's idea of what they want to sell you. And if you have diamond, or zirconia, earrings, now's the time to wear them. They're like your own personal floodlights and will light up your face like nothing else, EXCEPT:
7) The best accessory for the Holidays, or any time of year, is a lovely smile. It's not a cliché. Try it in the mirror, and you will see how it lifts up your cheek muscles, jawline, neck and everything else. It's an instant face-lift!
Have a great holiday-whether you wear The Holiday Sweater or not!
Subscribe to BoomerBabes.com and you'll get updates as they happen!