The Holiday Sweater
As Thanksgiving  is behind us, Hanukkah is here, Christmas is fast approaching, and my thoughts turn to… The Holiday Sweater!
To wear, or not to wear, hmmm, that is the question…
Traditionally, the Christmas Holiday Sweater is red and green with Santas, reindeer, candles and ornaments merrily prancing across your chest. And, for Hanukkah, it's usually dreidels, menorahs, the Star of David and other traditional symbols on the blue, white and gold background of the Hanukkah Holiday Sweater.
Every year, many BoomerBabes pull their Holiday Sweater from the back of the closet and wear it. But, what might have been a warm and fuzzy tradition in the past, may now be an aging and frumpy habit. Perhaps it's time for a fresh, honest appraisal of how that Holiday Sweater actually looks on you now. Should you really wear it at this stage of life? Is it okay that it makes you look 10 years older and 10 pounds heavier? Or does the sentiment overcome the vanity? Perhaps you should wear it in a fresh and new way, or perhaps, wear something else. ( gasp!)
Let's explore the pros and cons of the BoomerBabe wearing a Holiday sweater:
Pros: Your sweater will hide the effects of the holiday foods you've been eating since Halloween. ( those mini chocolate bars are my favorites…).
You show the world that you have the holiday spirit.
Your Holiday Sweater will never wear out as you only wear it during one holiday season per year. You can wash your car with it, mop the school cafeteria floor with it, and it will never wear out.
You never have to think of what to wear for the holiday celebrations and family photos-you've got the Holiday Sweater!
Cons: You will always look 10 pounds heavier and 10 years older in your Holiday Sweater. This would be good if you were a skinny 12 year old.
You are losing a grand opportunity to look chic, fresh, and fashion-current in front of your family, friends, and that special someone.
You will not look BoomerBabe-ish if you wear the traditional Holiday sweater. Possibly no one, except for your husband in his Holiday Sweater, will find you sexy in your Holiday Sweater. And I guess that's fine, unless you're single and looking!
You will always be hot in the Holiday sweater, no, not that kind of hot, but hot from hot flashes! Those sweaters don't breathe!
If your response is:
I want to wear it anyway as my (fill in the blank) gave it to me: OK, if you still love your Holiday Sweater and wouldn't dream of eating fruitcake wearing anything else, there are ways of wearing it that can make it more BoomerBabe-ish:
1) Haul it out of the back of your closet, drawer, moth balls, whatever, and clean it, de-pill it and make any necessary repairs or alterations.
2) If you're carrying a few more pounds than you'd like, put on some discreet shapewear underneath (click on photo below) and a new, uplift bra (ditto ) to get the Girls up, up, up for a more youthful silhouette in even the Holiday Sweater. Shapewear is the BoomerBabe's BFF (Best Friend Forever), unless you spend every waking moment at the gym and never eat a carb.
3) Wear something great below the sweater, such as jeans that tuck and lift everything but are still comfortable! (in the BoomerBabes Shop, click on the Shop tab above) Check out the fabulous dark-wash straight-leg jeans for boy-ish figures or, for fuller, hour-glass figures, have a look at the black boot-cut jeans.Or you can choose a fabulous pair of dark velvet slacks (below), or a dark pencil or A-line skirt . If your legs still make you smile, and your sweater is a long, mid-thigh tunic, leggings ( in the Shop ) or jeggings are another great choice. Depending upon your shape and size, and the color of the sweater, wearing winter white slacks or skirts, but not winter white leggings or tights, is a very pretty option also.
4) What you wear on your feet ( see below, I am lusting for these ) can lift the style quotient of the Holiday Sweater. Fabulous boots, whether sexy ankle booties, or knee-high leather ones, or even sleek over-the-knee boots could work, depending upon your height, figure, comfort zone with heels, proportion of the sweater, slacks or skirt. Embellished ballet flats or kitten heels (in Shop), are another very stylish selection, if you'll be on your feet for hours on end.

Nina Ravine Pump

See more shoes in the BoomerBabes Shop
If your sweater is heavily patterned, it's best not to wear patterned tights, but solid-colored, opaque ones instead. Match the tights to your footwear and to what you wear below the Sweater, it's so slimming and sexy! But if you are wearing winter white below the sweater, think twice about wearing winter white tights, they can make your legs look heavy and can also look like you're wearing a medical uniform. Try winter white in slacks, or if you wear a winter white skirt, wear it with tall boots, to avoid the white tights.
5) A stylish, thin, flexible leather or metal belt ( below ) over the sweater could work, if the sweater is thin and of a soft fabric and if you are pleased with your waist.
6) If the Holiday Sweater is a cardigan, you have even more options. You can button it part way up, to mid-chest, perhaps belt it and wear a pretty camisole ( below ) or a crisp white button-front shirt peeking out. Or you can leave the sweater completely unbuttoned, wear a tank, thin pullover or shirt underneath, belted or not, and wear the open Holiday Sweater as an accent.
7) Forget the conservative pearl studs and any sort of necklace or bracelets with the patterned, embellished Holiday Sweater, wear some big hoop earrings or sexy, dangly ones, a bold statement ring, and you're all set to impress with the Holiday Sweater!
If your response is:
I'm a BoomerBabe who would rather eat dirt than wear a Holiday Sweater!
OK! There are many other options for a festive look:
1) Wear a beautiful sweater or blouse in a luxe fabric, such as cashmere, velvet ( the purple velvet below is so yummy) or silk, in the holiday colors of your personal traditions, or just rich colors that you love. I havea vintage, red, men's cashmere v-neck pullover I like wearing this time of year, and a couple of jewel-toned silk blouses that are quite festive.
2) Metallic tops are always lovely and take on a special holiday feel this time of year; golds, pewters, coppers, bronzes, and silvers. Choose the one that flatters your hair, skin and eyes the most. This is usually silver and pewter for brunettes, copper or bronze for redheads, gold or bronze ( below ) for blondes and silver for silver hair. The darker your skin, the more dramatic you can go. Try the tops on in a good mirror with real daylight to choose what metallic is best for you. And if a top is a bit bare for your taste, try a beautiful jacket ( below) over it. The metallic fabric will look stunning peeking out of it, and so will the hint of cleavage!
3) Sequins are always a glamorous way to go for evening. An added plus is that the current trend of wearing sequins as daywear can also enhance your daytime holiday outfits and are very fashion-forward for BoomerBabes, if worn appropriately. Try a sequined jacket or a versatile sequined top (below) over your dark-wash jeans, velvet slacks, simple skirts and sheath dresses. (I have a chocolate brown sequined jacket I can wear over so many things.) Or wear a sequined tunic-length cami over a thin, long-sleeved, layering tee-shirt, or a sequined tank under a denim or leather jacket.
4) Sweaters or tunics embellished with beading, fauxattached necklaces, fabric bows, or ruffles, can be very chic and still be festive.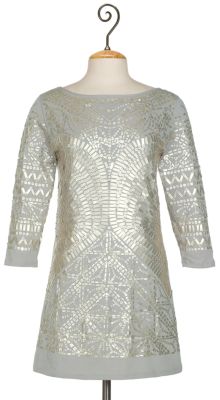 (Click above. You'll have a choice of colors.)
5) All the suggestions I mentioned earlier as to what to wear below the Holiday Sweater, and my footwear suggestions, apply here to the non-holiday sweater options too.
6) Since you are not wearing a patterned, holiday-themed sweater, you have even more options with accessories. It's fun to explore those that are holiday-themed or simply communicate "Festive". Think about a holiday-themed brooch for your winter coat, or a pair of fun holiday earrings.
I have a pair of cascading earrings made of many tiny golden bows that I wear every year. They don't scream "Christmas" but are pretty and festive. If you wear eyeglasses, you can even go with the fun, colored, sparkly ones for the holidays. Just don't wear "party" eyeglasses with big earrings or bold necklaces, as the glasses should be your main accessory from the neck up.
Without the pattern and the embellishments of the Holiday Sweater, your outfit will probably be monochromatic, neutral or of solid colors, so you can add to the Festive quotient even more with a sparkly bag, glittery or metallic footwear, patterned tights, bracelets, necklaces, scarves. Just keep the categories of accessories to three, maximum. I don't know why, but three is the magic number for BoomerBabes. You can certainly wear less than three categories, but, please, not more.
I know the trend is to pile on baubles and bangles on every available body part, but those models in the fashion mags and on the runways are under 25 and they would look good with used tires dangling from their necks. Some examples of accessorizing in the BoomerBabe Rule of Threes are: amped-up earrings, metallic bracelets and embellished bag; or a statement necklace, subtle patterned tights and a satin bag; or a festive scarf, special footwear and glittery bag. But, more, more, more just doesn't work on us.
Here's a little more homework: Pull out your most luxe holiday accessories, stand in front of your trusty full-length mirror, and then put on as much of the bling that your heart desires, or in the copious amounts that the fashion mags are promoting. Have a good look. Then take it off piece by piece, until the quantity is down to the Rule of Threes or less, and take another good look. I think you'll agree that less is more, as in more chic, more sexy, more fun and more BoomerBabe-ish. Too much stuff looks cluttered and like you're TRYING TOO HARD. Too little bling just looks naked. Spread out the bling and use it sparingly, and you'll look your personal best, not some magazine editor's idea of what they want to sell you. And if you have diamond, or zirconia, earrings, now's the time to wear them. They're like your own personal floodlights and will light up your face like nothing else, EXCEPT:
7) The best accessory for the Holidays, or any time of year, is a lovely smile. It's not a cliché. Try it in the mirror, and you will see how it lifts up your cheek muscles, jawline, neck and everything else. It's an instant face-lift!
Have a great holiday-whether you wear The Holiday Sweater or not!
One Response to The Holiday Sweater